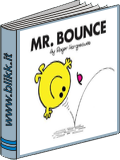 Title :Mr. Bounce
Author:Roger Hangreaves

Title :Mr. Bounce
Author:Roger Hangreaves
In dem Buch geht es um ...
... The Book is about: Mr.Bounce who is very small and likes a rubber ball best. Mr . Bounce is bouncing all the time, because the people mistake him for a tennisball. Mr. Bounce bounces to the doctor, he bounces into the coffee. The doctor says :"Mr. Bounce what's the problem?"Mr. Bounce says :"I dont want to bounce. So the doctor gives him a pair of shoes.
Das Buch gefällt mir weil ...
... Our opinion of the book: it's O.K.